Exploring the LA Times Map with Jose Mier
I've cooled down somewhat since my last Jose Mier Sun Valley rant. Oh I'm still frustrated that certain news sites only allow me too view a few articles before paying a subscription, but there's an exception: the Los Angeles times maps page.
Even I, Jose Mier, as a Sun Valley resident, don't know everything there is about our community and I continue to educate myself. As I write articles for these pages I scour the Internet for news about Sun Valley, California and I just happened upon the maps page for Sun Valley, hosted by the Los Angeles Times. If you're a resident like me and you want to know more about our community this has a lot of good information.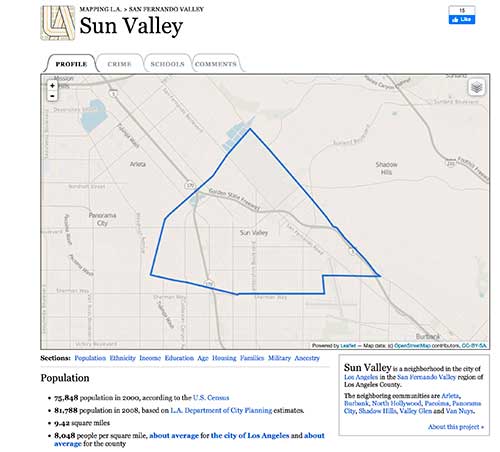 Of course I knew we have a higher than average Hispanic population in Sun Valley, but did you know that only a little over 10% of our residents have a four-year college degree? I knew that the median income was roughly around $51,000, but I didn't know the median age is roughly 28 years.
A lot of similar information is available on Wikipedia but it's nice to have it displayed in digestible chunks as is on the LA Times maps page. It's interesting to note also that the most common heritage in Sun Valley is either Mexican or Armenian. Many of our residents were born in another country, the highest percentages being Mexico and El Salvador.
The information contained in the mapping pages of the Los Angeles times is not limited to Sun Valley so if you're a resident of some other San Fernando Valley location the information for that location is only a click away. It's always helpful to know this much about your community as possible and especially in this election year and since this year.
Summary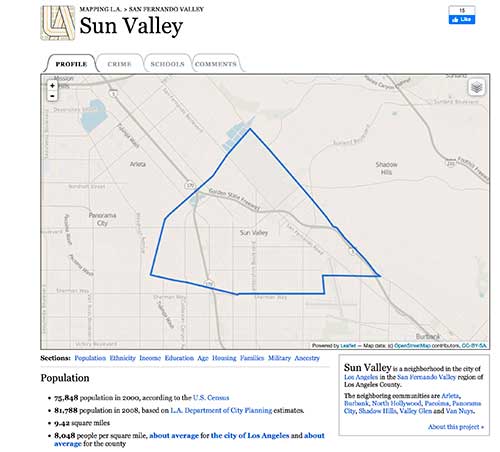 Article Name
Description
Jose Mier goes over the Sun Valley, CA map and associated demographic information on the Los Angeles Times maps pages.
Author
Publisher Name
Publisher Logo