Sun Valley Demographics by Jose Mier
If you remember the song by Jan and Dean, "Surf City," there's a line in the song about two girls for every boy. Those were kind of the musings of a teenage boy in the 1960s. Well, Sun Valley is not quite Surf City, but taking a look at the demographics for Sun Valley on point2homes.com you can see that there are slightly more females in our population than males, making it about 0.0000001 girl for every boy. I may be exaggerating a bit. About 49.6% are male and 50.4% are female.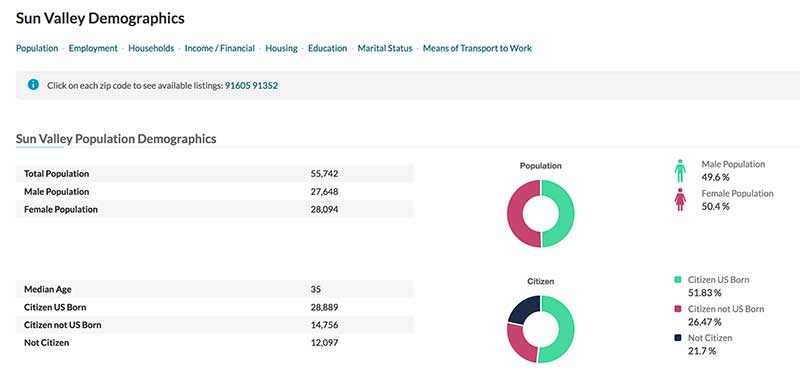 I'm a serious side what else can we learn from Sun Valley demographics? Perhaps the most significant statistic is that almost half our residents were not born in the United States. According to Point2, a little over 51% of Sun Valley residents are US or foreign-born citizens. 26% are citizens but were not born in United States. The remainder, about 21% are noncitizens.
The other statistic that I look at his how many people move to Sun Valley from some other location. The vast majority, 93.86% are living in the same house in Sun Valley as they did last year. Only about 5% of the population moved from some other location. The majority of those, 4.73% moved from somewhere else in the United States to their current location in Sun Valley.
As far as our economy is impacted by the statistics, that means our population is relatively stable and there's not a great influx of people from other areas. This is just speculation on my part but I feel that the Coronavirus may have had an impact in this area. People are not moving to California like they used to. In fact, due to much of the restrictions and high cost of living in Southern California—indeed the whole state—about 300,000 people have left California for other parts of United States.
I'll continue to keep an eye on Sun Valley demographics as it affects our economy but for now I'd say things are holding steady.
Summary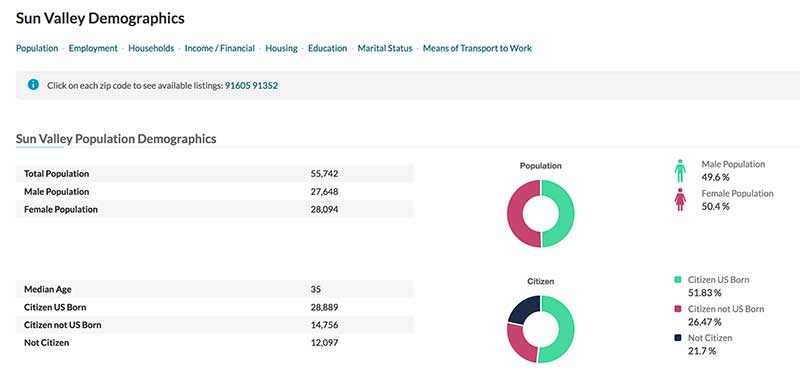 Article Name
Not Quite "Two Girls for Every Boy"
Description
Jose Mier explores Sun Valley demograhics, noting that there are more females in the population than males and half of us were not born in the U.S.
Author
Publisher Name
Publisher Logo