Jose Mier Discovers the Citizen App
Well, Sun Valley is seeing it's share of chaos in recent months. First we had to deal (and are still dealing with) the coronavirus. Now, protests and riots following the death of George Floyd are taking place throughout the greater Los Angeles area. If it's not one thing it's another and I'm getting disheartened that I can't report more good news, these earlier Jose Mier posts.

We have been stuck in our homes for months and now, just as things started to partially reopen, we're faced with 6pm curfews. For many it's stay at home, turn on the TV and see how messed up things are.
Regardless of what's happening we in the Los Angeles and Sun Valley area specifically we need to be informed. As a member of a local area chamber of commerce I received an email which contained information about an app I'd not heard of before. It's called Citizen. Normally I don't need (or want) to know all the bad things that are happening in my community, but now seem like a good time to get and stay tuned in.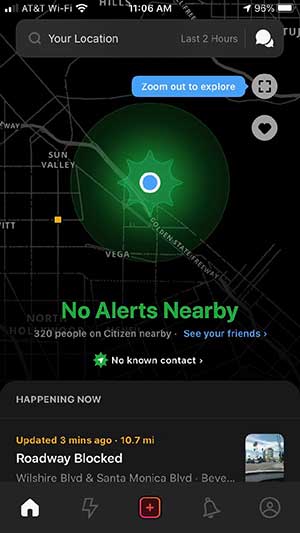 Tracking Jose Mier
The Citizen app knows your physical location and reports on incidents that are occurring close by. You can also check out what's happening elsewhere in your larger community. For me, that's all of Los Angeles. Users can post updates and even add video to let other users know if something bad is happening, giving us time to take any necessary measures (like stay away from those hotspots).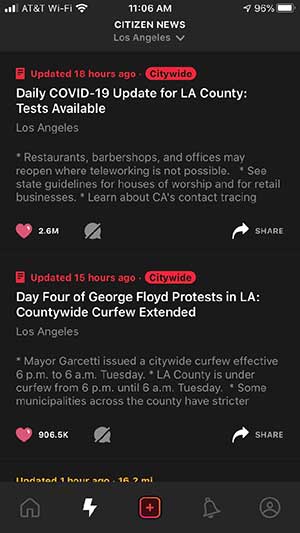 I'm a newbie to the app, having used it only for a couple of days but another aspect of the app is that it can help track the spread of the coronavirus. Users can enter how they're feeling (if they have any symptoms, etc.) each day. It will also help with contact tracing.
It may or may not be an app you'd like to add to your smartphone, but in these uncertain times, a little knowledge may be very helpful. I'm finding it interesting at least in that I can see more of what's going on in my neighborhood are environs than I could get from watching hours upon hours of news reports that done have the same granularity this app gives me.
If you want to keep up to date about happenings in and around Sun Valley, give the app a try. If it works for Jose Mier, it will work for you.