LAGUNA BEACH, Calif.—An early morning ribbon-cutting ceremony on June 15 in downtown Laguna Beach marked the opening of a new pedestrian promenade officials hope will kickstart the city's economic recovery following the COVID-19 shutdown.
Roughly 100 people gathered at 8 a.m., coffee in hand, to watch Mayor Bob Whalen and Councilmember Sue Kemp launch the summer project at the corner of Pacific Coast Highway and Forest Avenue, which has been closed to traffic and turned into a European-style art walk. Kemp, who spearheaded the initiative, cut the ribbon.
"Now we have a downtown!" restaurant owner Alessandor Pirozzi told The Epoch Times, admiring the changes made outside his business, which include extra tables, chairs, umbrellas, and art installations.
"I think this will be a fun opportunity for our community, a great boost for our local retailers and restaurants," Mayor Whalen said, opening the ceremony. "It's great to see all of you—this is more people than I've seen in three or four months."
The mayor encouraged visitors to wear masks, safely social distance, and "spend some money." He said maintenance workers had been hired to disinfect the furniture often.
Assistant City Manager Shohreh Dupuis told The Epoch Times that the city hopes to assist restaurants, retailers, and art galleries in their recoveries by creating a special space for visitors.
"The stay-at-home order has had significant impacts on our businesses," Dupuis, who also attended, said via email. "Several restaurants and shops that were closed during that time have gone out of business."
Performance art and retail display decks are scattered along the stretch, from the Coast Highway to Glenneyre Street. A vintage lifeguard jeep, on loan from the Marine Safety Foundation, is parked at one end of the walk. Hand-sanitizing stations and works by local artists line the avenue.
The city's economic recovery team hopes the setup will encourage residents to linger, buy local, and restore the city's liveliness and well-being.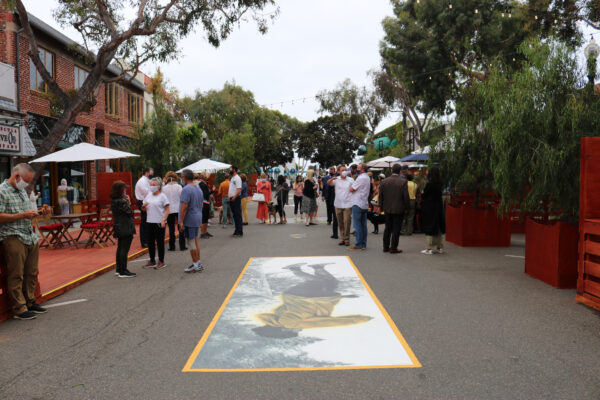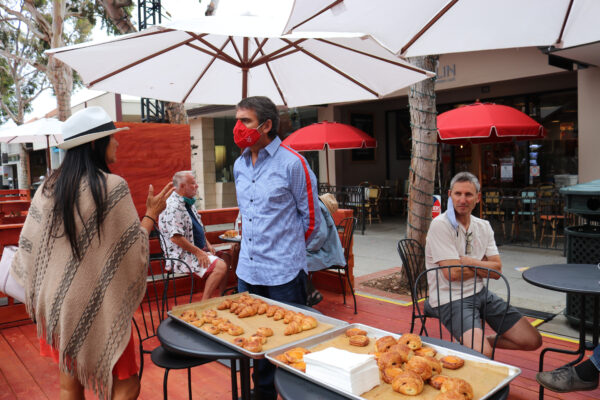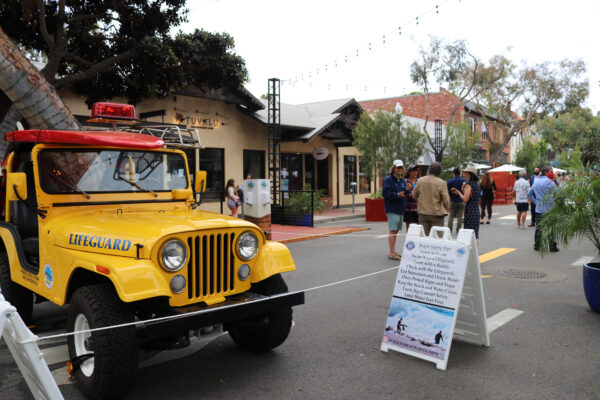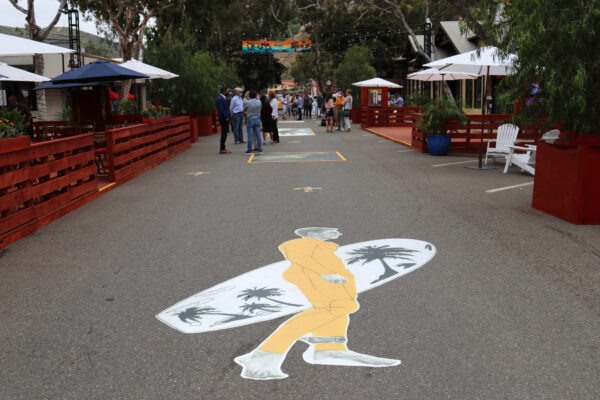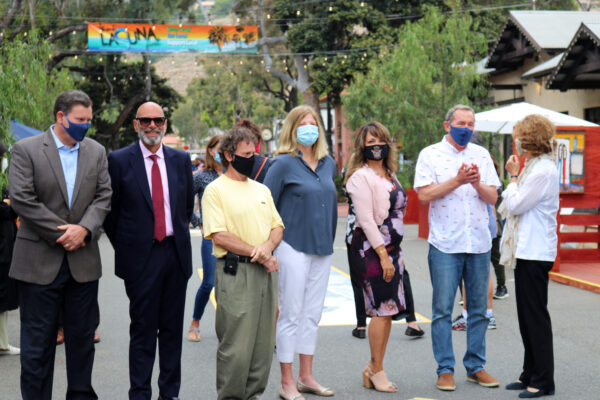 Some of Laguna Beach's quaint businesses were already struggling—and City Council members were debating how to resolve ongoing economic issues downtown—when Gov. Gavin Newsom issued his March 19 stay-at-home order. The city ordered all nonessential businesses to completely close down on March 22.
Pirozzi, owner of fine-dining Italian restaurant Alessa Laguna, said he was prepared for the CCP (Chinese Communist Party) virus because of what his family in Italy were experiencing early on. However, he didn't think the city of Laguna would react so quickly, and was shocked when it did.
"We threw away hundreds and hundreds of bottles of wine and food, because we didn't even have time to sell it," Pirozzi said. "We never really recuperated, so far, from it."
Pirozzi pays $20,000 a month in property rent. His landlord allowed him to defer one payment, then began collecting dues again.
Pirozzi kept 100 employees on payroll and paid them out of his own pocket, he said, until he spent almost all his savings. He furloughed his part-time employees, but when the restaurant was allowed to reopen in mid-May for takeout, he reinstated all of them.
"I kept everybody on because, you know, it wasn't their fault," he said.
He said it was "good that the city took some initiative" to "create something that generates more business." He was impressed by the city's "out-of-the-box thinking."
Just a few doors down sits Moulin, a French cafe serving beverages, crepes, brunch, and more. Owner Laurent Vrignaud placed trays of croissants and pastries on tables in the new parklet outside, chatting excitedly with visitors as they strolled by.
"Now there's light at the end of the tunnel," Vrignaud told The Epoch Times.
"My problem is going to be the crowds. Next weekend is going to be insane, by the time people know what's going on here," he said.
Vrignaud said he was fortunate to have a cushion to fall back on during the shutdown—but paying rent was particularly difficult.
"You can't shake rent. The landlord wants to collect his rent whether you're open or not, so that's always been a challenge," he said.
He recalled that a few years ago, there was a similar project, but it didn't last more than a few months. "People just weren't into it," he said.
But with the pandemic at play and stirring residents eager to get outside, he thinks this time is going to be different.
"This is an example of when business and community can work hand-in-hand," Councilmember Kemp said before cutting the ribbon.
City Council voted on May 12 to create the promenade, contradicting the belief that the local government moves at a glacial pace, she said.
"This is about reenergizing the whole town as safely as possible," Kemp said.
The promenade will be open from 9 a.m. to 10 p.m. throughout the summer, ending Sept. 7.