Jose Mier Lists Seasons and Activities
Jose Mier always promotes Sun Valley, CA and the neighboring "Valley" cities. Looking for the best time to come here? Read on!
The San Fernando Valley, nestled within the sprawling city of Los Angeles, is a vibrant and diverse region that offers visitors a unique blend of natural beauty, cultural attractions, and a taste of the quintessential California lifestyle. When planning a visit to the San Fernando Valley from outside of California, it's essential to consider the best time to experience this area to its fullest potential and to explore the myriad of activities and attractions available throughout Los Angeles.
The Best Time to Visit the San Fernando Valley:
The climate in the San Fernando Valley is Mediterranean, characterized by warm, dry summers and mild, wet winters. While the region is relatively pleasant year-round, the ideal time to visit depends on your preferences and the type of experience you seek.
Spring (March to May): Spring is often considered one of the best times to visit the San Fernando Valley. During this season, the weather is mild, with temperatures ranging from the mid-60s to mid-70s Fahrenheit (18-24°C). The hills and valleys burst into colorful blooms, making it an excellent time for outdoor activities like hiking, picnicking, and exploring the numerous parks and botanical gardens.
Summer (June to August): Summer in the San Fernando Valley can be quite hot, with temperatures regularly exceeding 90°F (32°C) or higher. If you enjoy warm weather and are looking to experience the iconic California sunshine, this might be your preferred season. It's a great time for swimming, sunbathing, and enjoying the many outdoor festivals and events that take place during the summer months.
Fall (September to November): Fall is another fantastic time to visit, offering warm, pleasant weather with temperatures ranging from the mid-70s to low 80s Fahrenheit (24-28°C). The region's foliage begins to change, creating beautiful autumn scenery, and it's an excellent time for hiking and exploring the San Fernando Valley's natural beauty.
Winter (December to February): Winter in the San Fernando Valley is mild and relatively cool, with temperatures typically ranging from the mid-50s to low 60s Fahrenheit (12-17°C). While it might not be the best time for beach activities, it's perfect for exploring indoor attractions, museums, and cultural events. Plus, you can escape the crowds and enjoy more affordable accommodations during this season.
Things to Do in the Los Angeles Area:
Los Angeles is a city of endless possibilities, with something for every traveler's taste. When visiting the San Fernando Valley, you'll have easy access to all that Los Angeles has to offer. Here are some must-see attractions and activities in the broader Los Angeles area: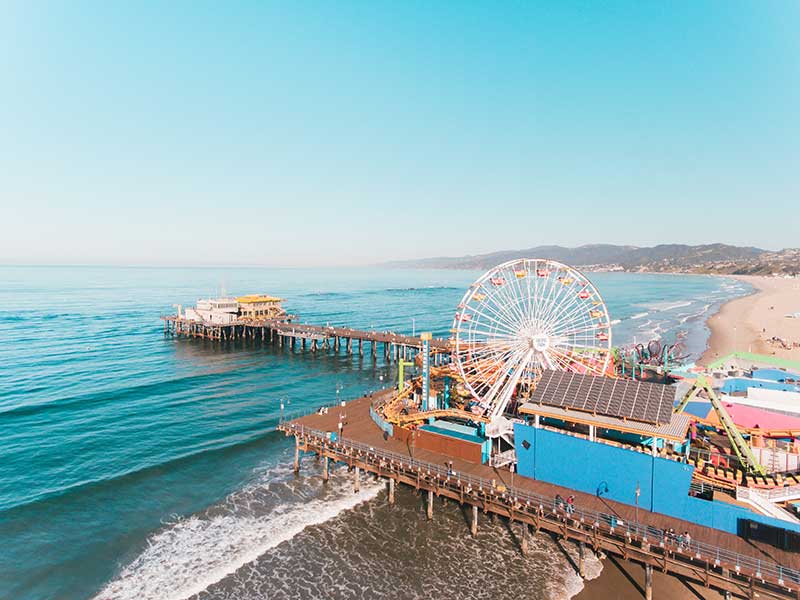 Visit Universal Studios Hollywood: Located in the heart of the San Fernando Valley, Universal Studios Hollywood offers a thrilling experience for movie buffs and theme park enthusiasts. Explore the world of film and television with studio tours, exciting rides, and live entertainment.
Hike in the Santa Monica Mountains: Enjoy the stunning natural beauty of the Santa Monica Mountains, which border the San Fernando Valley. Popular hiking spots like Runyon Canyon and Topanga State Park offer breathtaking views of the city and the Pacific Ocean.
Explore Griffith Park: Griffith Park is one of the largest urban parks in the United States and offers a wide range of activities. Visit the Griffith Observatory for stargazing, hike to the iconic Hollywood Sign, or take a leisurely stroll through the park's lush trails.
Discover Art and Culture: Los Angeles is home to world-class museums and cultural institutions. Don't miss the Getty Center, LACMA (Los Angeles County Museum of Art), The Broad, and the Museum of Contemporary Art (MOCA) to immerse yourself in art and culture.
Relax at the Beach: Head to the beautiful beaches of Santa Monica, Venice, or Malibu to soak up the sun, swim, or enjoy some beachside dining. The coastal areas offer a laid-back California vibe that's perfect for relaxation.
Shop on Rodeo Drive: For upscale shopping and a taste of luxury, visit Rodeo Drive in Beverly Hills. Explore high-end boutiques and maybe even spot a celebrity or two.
Experience Hollywood: Take a stroll along the Hollywood Walk of Fame and visit TCL Chinese Theatre to see the handprints and footprints of famous stars. Hollywood is also home to a vibrant nightlife scene.
Taste the Culinary Delights: Los Angeles is a melting pot of culinary cultures. Explore diverse neighborhoods like Koreatown, Little Tokyo, and Chinatown for authentic international cuisine. Don't forget to try In-N-Out Burger for a classic California fast-food experience.
Attend a Live Performance: Catch a live performance at one of Los Angeles' renowned theaters. The Pantages Theatre and the Walt Disney Concert Hall host Broadway shows, concerts, and other live events.
Visit Museums and Historic Sites: Explore the historic sites of Olvera Street, where Los Angeles was founded, or visit the USS Iowa Museum in San Pedro. The city has a rich history waiting to be discovered.
In conclusion, the best time to visit the San Fernando Valley depends on your preferences for weather and activities. Spring and fall offer milder temperatures and beautiful natural scenery, while summer is perfect for those who love warm weather. Winter is a great time for indoor activities and escaping the crowds. Whatever the season, Los Angeles and the San Fernando Valley provide an array of experiences that cater to diverse interests, ensuring an unforgettable visit for travelers from outside California.