Jose Mier with more Sun Valley, CA updates.
The governor allowed some retail establishments to reopen on Friday which included things like golf courses, car dealers and florists, but not hair salons.
In an article posted on the Fox LA website they interviewed a salon owner in Calabasas who is urging the governor to include salons on the list of businesses that are allowed to reopen. Salon owners and the stylists who are employed by them have been hard hit by our shutdown. The owner suggested that opening up—aside from letting workers get back to earning a living—was a safe alternative to stylists who have been making "secret" house calls to service their clients.
By reopening salons those salons could more easily control sanitizing and supervise stylists to make sure they were practicing their craft while taking precautions.
Sun Valley Hair Salons Still Closed
Here in Sun Valley the situation is no different and salons like Fabio's Hair Styling Salon at 8111 Sunland Blvd are forced to remain closed until further notice. Multiply the number of salons by the number of employees and you can see how big the problem is.
Jose Mier Advocates for Opening Sun Valley Businesses
Other states like Florida and Georgia have started reopening of salons and other establishments but California is dragging its feet. With two months of social distancing and taking other precautions under our belt, I believe business owners (and anyone entering those places) is now well-versed in how to keep themselves safe. Is it too much to ask for the government to trust its citizens to take care of themselves and others?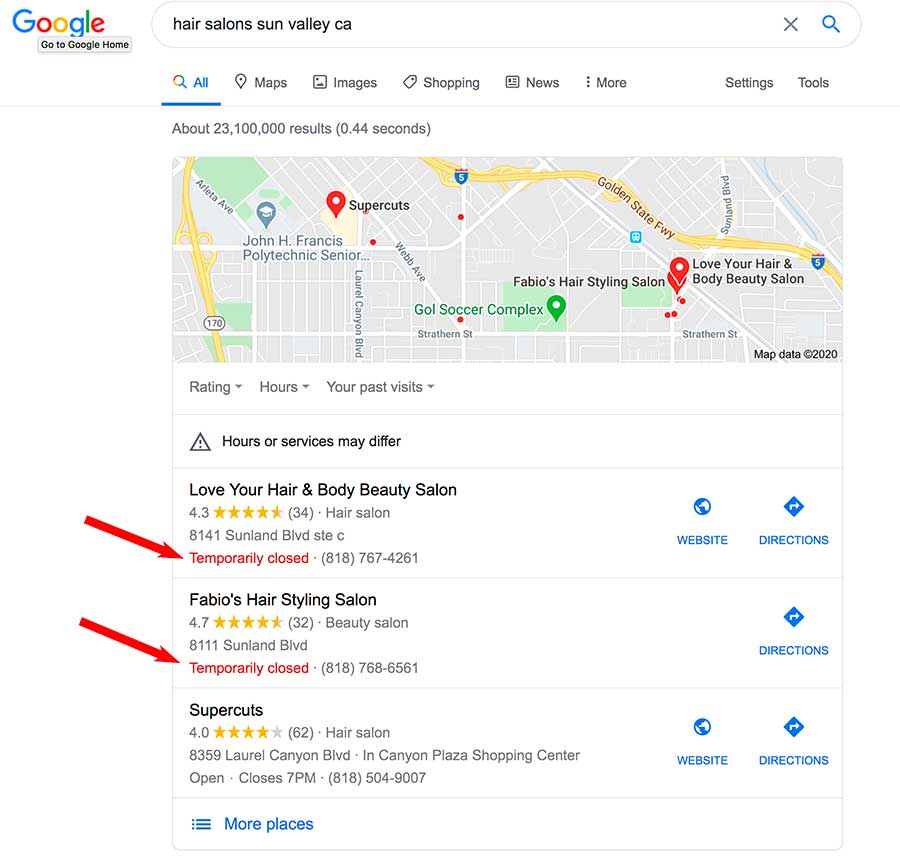 A quick search for Sun Valley Hair Salons brings up the Google maps section at the top of the page. With few exceptions (due to some owners not updating their Google My Business listing) every hair salon has the words "temporarily closed" in red displayed with their listing. Perhaps it's beyond time the state allows them to remove these reminders of our collective shutdown. After all, I really do need a haircut right now!