Who to Believe
Sun Valley has seen some extreme weather this year. As we move into October it looks as though the worst is behind us, but our fingers remain crossed. August and September subjected Sun Valley to record breaking temperatures and heat which only increased the drought conditions and the ability of fires to spread throughout the Southland.
As we move toward winter in the year 2021 many of us wonder what we can expect as far as weather. A cursory check of the extended weather forecast on the Internet yields conflicting viewpoints. Some predict a La Niña phenomenon in California which would mean less rain and drier conditions in the winter. Drier conditions are not good especially since California has been plagued by drought for the past several years and we need all the rainwater we can get. A recent drive through Northern California in the Mount Shasta area revealed the Lake Shasta was extremely low. The same is true for reservoirs in Southern California.
Still others predict a cold and wet winter. One of these is the Farmer's Almanac. The Farmer's Almanac has purported to predict the weather for over 100 years and for 2021 it warns of a very cold and wet winter beginning in October on into January. Is it accurate? I guess we'll have to see. The first test will come very soon. The Almanac is predicting periods of rain beginning around October 13 up through October 23. A quick check on the iPhone shows that October 13 is going to be sunny and warm with a high of 92 degrees. So far this year the iPhone has proven a bit more accurate than the Farmer's Almanac.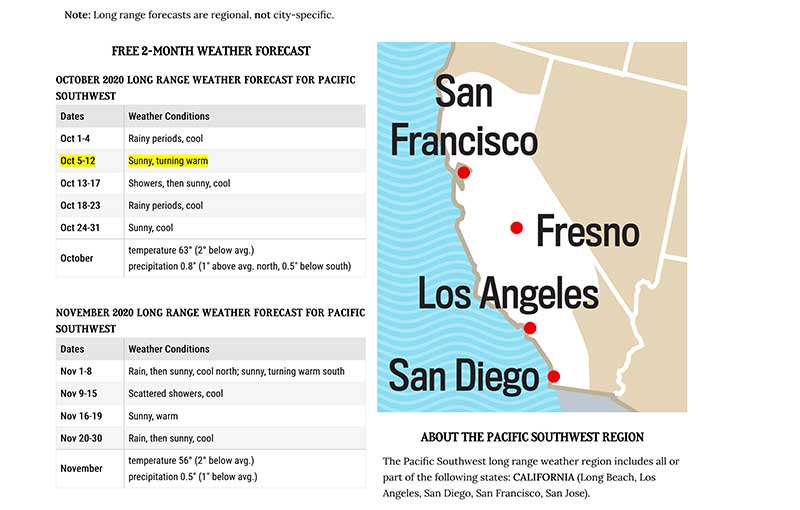 While we are expecting cooler temperatures this week the heat will apparently return the following week. For those like your humble reporter, Jose Mier, this is frustrating and maddening. I for one have been waiting for the summer heat to dissipate. I enjoy much more the cooler temperatures of fall and winter, if you can call those seasons by those names in Southern California. 92 degrees in the middle of October hardly feels like autumn. But complaining seems to get me nowhere so that's enough of that.
The weather is a changing thing and no one can predict it with 100% accuracy. So, there is still hope the Farmer's Almanac might just yet be right. Let's give it a week and see.
Summary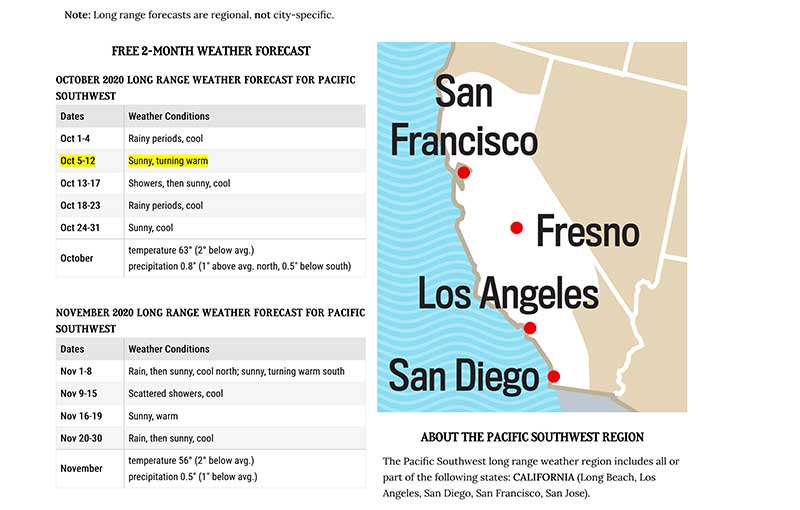 Article Name
Description
Jose Mier reports on conflicting views regarding Sun Valley, CA wather for late 2020 and early 2021. The Farmer's Almanac predicts wet and cold.
Author
Publisher Name
Publisher Logo