Jose Mier Shares Statistics
I have to preface this article with the statement that This is primarily my own opinion. It's that of José Meyer and no one else. But I regularly checked the coronavirus statistics for Los Angeles County in California of which Sun Valley's a part. Looking at the LA County Public Health website and there charts and graphs it looks to me like the big searching coronavirus cases occurred a month or two ago.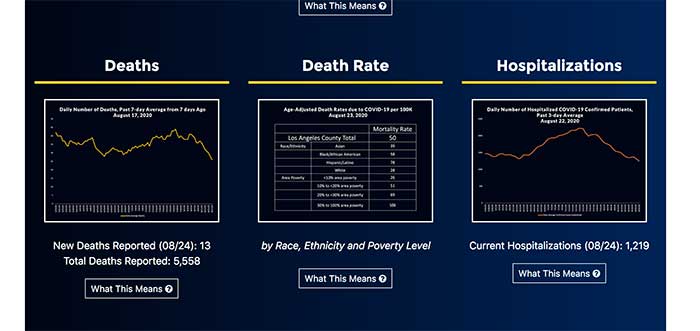 If you look at the screenshot I took of these graphs you can see all the lines are descending. This particular screen shot is of deaths and hospitalizations and as you can see the number of deaths is declining as is the number of hospitalizations.
Aside from the fact that the number of deaths is declining I always want to ask about. We have over 10 million people in Los Angeles County. To date we see 5,233 deaths. And that's just for LA County. Using 10 million is the figure for the population of Los Angeles County the death rate in my calculation is .0005. This is an extremely low number. That's why Jose Mier continually asks if the shutdowns justified.
So we have an extremely low rate of death with the coronavirus in Los Angeles County and the same is true across the state. As are the number of hospitalizations. All of this, in my opinion, means that we aren't relatively low risk for contracting the coronavirus. Even with greater numbers of cases, deaths and hospitalizations I feel it still does not justify draconian measures being taken by the state and the city.
Sun Valley residents are doing their part just like others throughout the city of Los Angeles in the entire state of California and are practicing social distancing as well as wearing masks when they're out and about. Of course it's just anecdotal but I do feel it is having an effect and it's slowing and/or stopping the spread of the coronavirus.
So, with all this data I think we can see a glimmer of light at the end of our shutdown tunnel. It's just a matter of whether the government in Sacramento sees the same light that we do.
I will continue to watch the statistics and I hope to see further downward progress on all of these charts and graphs. Sun Valley and indeed the whole state needs to reopen as soon as possible.
Summary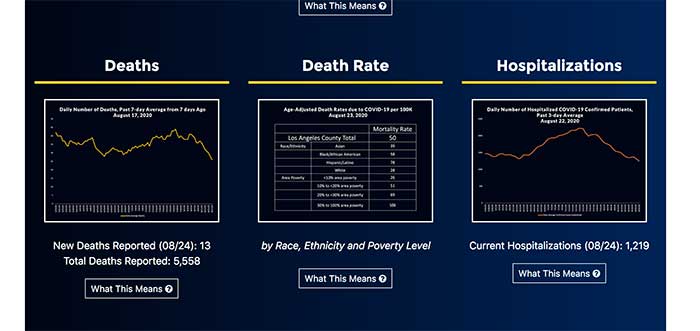 Article Name
Coronavirus in Sun Valley, CA: Some Good News
Description
Jose Mier of Sun Valley questions the need for draconian shutdowns across the state when viewing the coronvirus statistics. The death rate and hositalization rate are both dropping and the total number of deaths since the start of the COVID-19 pandemic are a very small percentage of the total population of California.
Author
Publisher Name
Publisher Logo