Jose Mier Welcomes Cooler Temps, Better Air
It's been a while since I've posted any updates about hiking in Sun Valley but I thought now that we are experiencing some cooler temperatures and better air quality that it may just be time to go hiking again if you've taken a break.
Sun Valley residents know very well that we are located in close proximity to the Verdugo Mountains which leads me to The subject of this post: the Verdugo Mountain Park. I've written before on Jose Mier Sun Valley.org about the wide variety of hiking trails and opportunities in our area and how close they are from anywhere in Sun Valley but specifically Verdugo Mountain Park is one area that's located within our borders.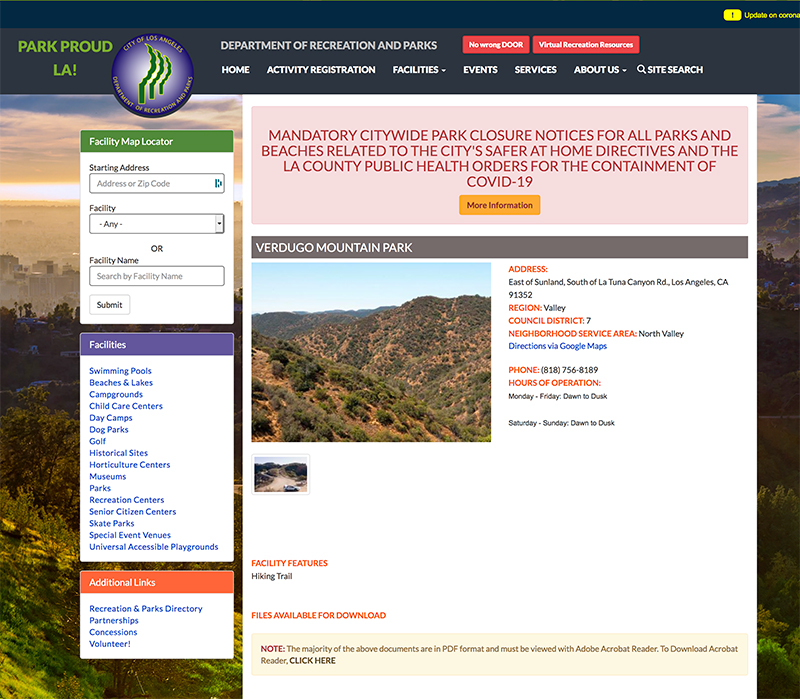 For those that don't know about it this member of the LA County park system it is located east of Sunland Boulevard and south of La Tuna Canyon Road. You can find more information about this park on the LA Parks website. I took a quick look because I wanted to see if there were any changes or updates and apparently there are none. However the bold notice at the top of the website would seem to indicate that parks are closed due to the coronavirus restrictions. It was a little confusing but when I clicked on the "more information" button I found that, indeed, our local parks are open.
Not too long ago we were in the midst terrible heatwave but with November temperatures in the 60s and 70s this is the prime opportunity to get out there and experience Sun Valley's many hiking trails. A few sprinkles around Southern California also ushered in much improved air quality. That's another incentive to get outdoors and get some exercise.
If you're interested in hiking any of our Sun Valley trails or any other parks in the Los Angeles area I encourage you to check out the LA Parks website before making any plans. If you do choose one of the Sun Valley hiking trails you just might find Jose Mier on the trail before you.
Summary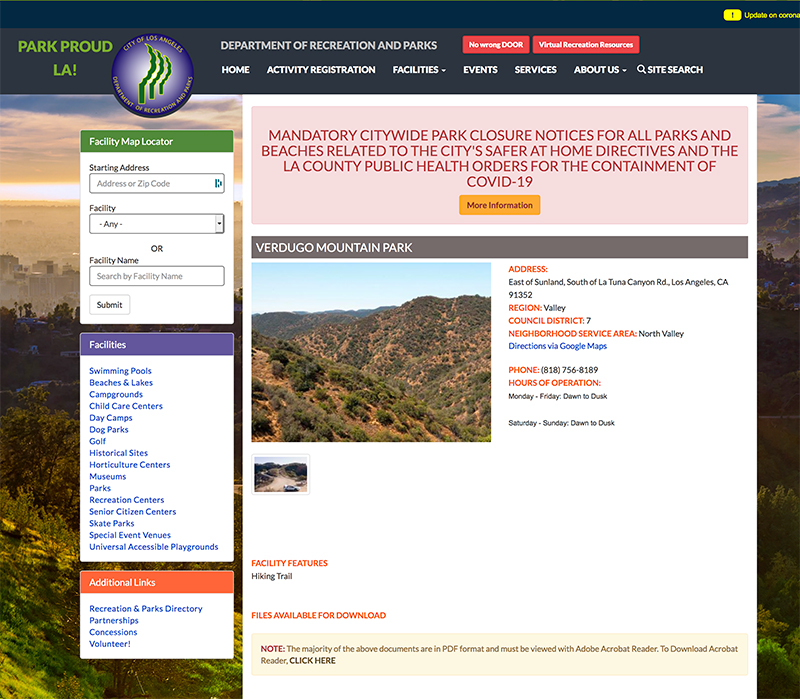 Article Name
Now Is The Time To Hike Sun Valley
Description
Jose Mier reports on Verdugo Mountain Park in Sun Valley, CA. This hiking area is open and a perfect place to hike now that temperatures are cooler.
Author
Publisher Name
Publisher Logo