Jose Mier Explores This Travel Website
Jose Mier Sun Valley.org is dedicated to promoting all that's great about our community. As I've said before in earlier Jose Mier posts Sun Valley is a great destination if you're coming to visit Southern California. We are extremely close to so many things in the Southland and have easy access to transportation and our freeway system.
So for those wanting to visit Los Angeles and its environs I say you can't go wrong with Sun Valley. We're fortunate that Sun Valley Borders the Burbank airport so anyone traveling to Southern California from other states or cities is really already in Sun Valley once they step off they're plane at the Burbank airport. It's such a great airport that I recommend it to anyone. So if you're planning a trip to the Los Angeles area and you want to avoid the hassle of Los Angeles International Airport use our airport and stay in Sun Valley.
There are a number of travel websites and apps to choose from, but one of my favorites is booking.com. I personally use this website to make travel reservations since it's so easy, and especially helpful to read reviews of hotels, restaurants or any other destinations that you're looking for before you actually make any reservations. Also if you stay enough nights you're automatically upgraded into the next tier and can take advantage of discounts offered by booking.com.
Another thing I like about this website is that, in addition to hotels and flights you can see the attractions that are available in the area that you're going to. For Sun Valley I did a quick search and found a number of things such as the Disney Concert Hall in downtown Los Angeles in the Hollywood Sign hike. But as I've said before we're so close to so many other cities in Southern California, like San Diego or Santa Barbara, that our location here in Sun Valley is the perfect destination.
So if you're looking to travel to Southern California, I recommend using booking.com and choosing Sun Valley as your base of operations.
Summary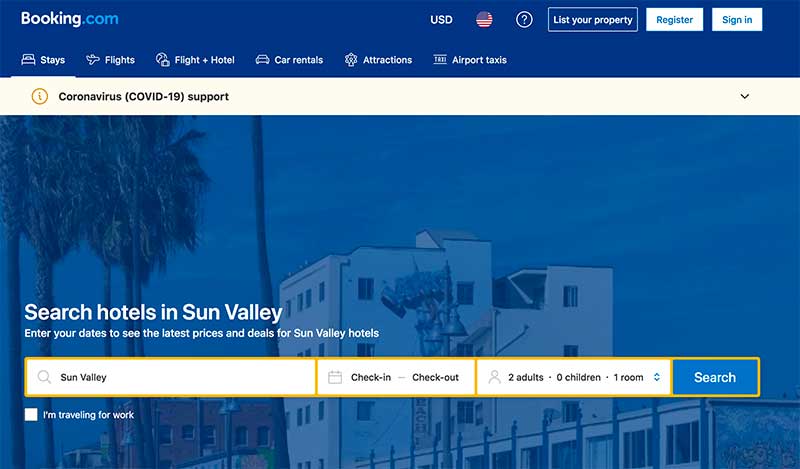 Article Name
Sun Valley on Booking.com
Description
Jose Mier recommends Sun Valley visitors use Booking.com to make reservations for their travel to the Los Angeles area.
Author
Publisher Name
Publisher Logo